All pop culture references in Hyenas
We understood that reference.
Hyenas is a new pop culture-infused game from Sega and Creative Assembly, which looks to have plenty of references to outside sources. The whole point is to work with your team to rob merchandise from millionaires in space, so there will be no shortage of moments where you might recognize a reference.
Related: All playable characters in Hyenas
All pop culture references in Hyenas
Here are all the pop culture references we found in Hyena's announcement trailer.
Akali from League of Legends/Atari
Some graffiti on the left side of the subway says, "Akali woz here." She is one of the playable champions from League of Legends. You can also spot the Atari log just below that.
Among Us Crewmate (or Impostor?)
An Among Us spaceman obviously could not convince the other players that he was a Crewmate considering he is floating through space in this shot.
Fall Guy/Green Army Men
We got a quick look at a Fall Guy in a hot dog here besides some Green Army Men toys.
Richard Nixon mask
The President Nixon mask has been used in past real-life bank robberies, so its inclusion in Hyenas is a reference to the heist background of the game.
Rubix Cube
An incomplete Rubix Cube is seen floating through the air here.
Sonic the Hedgehog
You can't have a Sega game without some reference to their mascot, Sonic the Hedgehog. This looks like a simple keychain, but it could also be a reference to Sonic's first-ever appearance as a decorative item hanging from the rearview mirror in the game Rad Mobile, which was released before the first Sonic game.
Sony Sport Walkman
While they don't appear anywhere now, Sony Walkmans used to be your main source of listening to music on the go.
Statue of Liberty
It looks like a millionaire wanted to go big and steal the Statue of Liberty, which we see some characters fighting on top of here.
Super Monkey Ball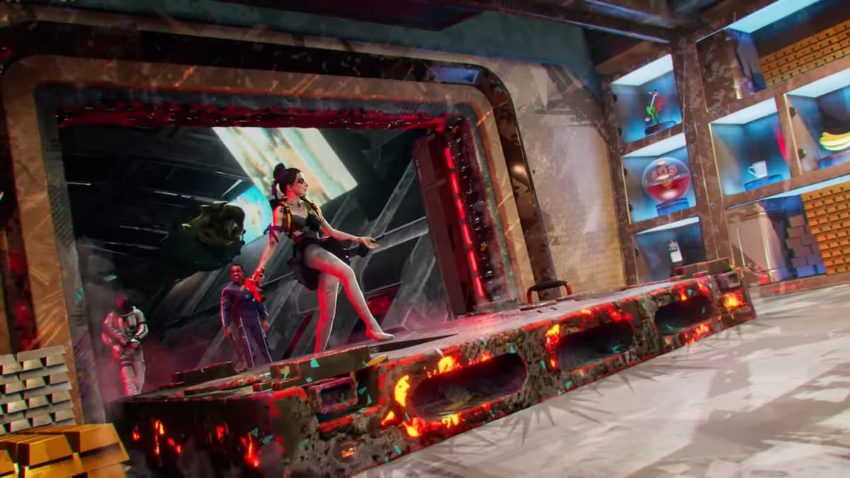 Another Sega reference, we see AiAi in his Monkey Ball to the right. The bananas nearby are likely another reference to his series.