Best FOV Settings For Modern Warfare 3
Finding the best FOV setting in Modern Warfare 3 can give you an advantage over other players on the battlefield.
You can get the upper hand on your opponents in Call of Duty: Modern Warfare 3, and one of those methods is tweaking your gameplay settings. The FOV slider is a simple yet effective setting to give you an advantage over others.
Modifying your graphics settings in Call of Duty: Modern Warfare 3 can provide you with some additional benefits compared to the default settings the game generally offers. Finding something that suits your playstyle while still being visually appealing is a tricky balance, especially when it comes to determining the best FOV setting for when you're playing.
Related: All Portal Locations and Symbol Codes in CoD: Modern Warfare 3 Zombies
Best FOV Settings For MW3
Finding the best FOV setting in video games comes down to personal preference. For Call of Duty: Modern Warfare 3, I recommend playing between 90-110, as you'll get a nice view of the surrounding area without having too much of a fisheye effect. You'll need to take into account the aspect ratio you're playing in, as well as the size of your monitor. I suggest modifying this setting a few times until you find something that works for you.
The image above shows the difference between a FOV setting of 70 and 90, taken standing in the same spot. In the higher FOV setting, you can see the doorway on the right-hand side, along with more of the area in the kitchen to the left. The biggest downfall of having a higher FOV is that it can make it more difficult to see things further in the distance – such as zombies or mercenaries in the zombie mode. It can also cause a lower frame rate because the game has to render more assets on the screen.
Related: What is Tactical Stance in Call of Duty: Modern Warfare 3 (MW3)?
How To Change FOV In MW3
The FOV (Field of View) setting in games is used to display how much of the game world you can see from the camera's perspective. This is generally measured as an angle, but all video games differ in how this is calculated by default. For Call of Duty Modern Warfare 3, the default FOV setting is 80. To change the FOV in Modern Warfare 3 you can do this from the settings menu, either on PC or consoles.
From the Main Menu go to the Settings Menu, which is the gear icon.
Next, select the Graphics button.
Select the View tab.
Change the slider on the Field of View (FOV) to your preferred setting.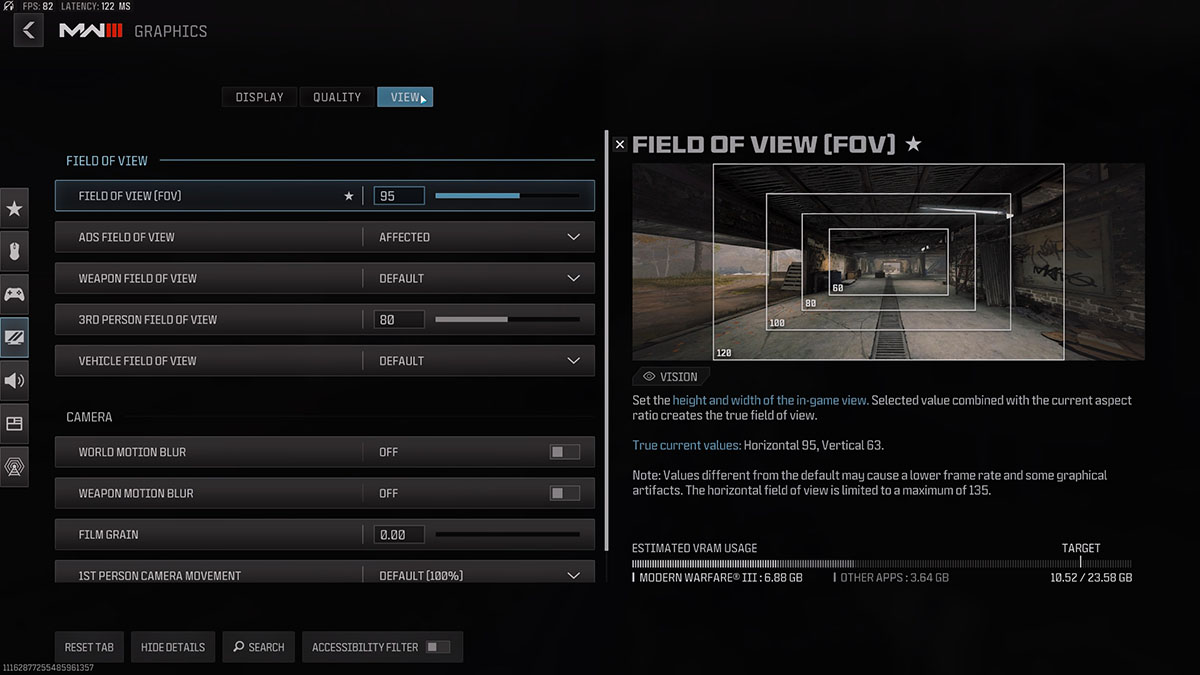 In the View menu you can also adjust the Field of View for ADS, weapons, 3rd person, and vehicles. I generally use the same setting across all of them, but feel free to change this as you desire.