Best Rival-9 Loadout In MW3
The best Rival-9 loadout in MW3 will have you putting your enemies in the dirt at lightspeed. Try it for yourself if you don't believe me.
Modern Warfare 3's Assault Rifles are dominating the game, but having the best Rival-9 loadout will help level the playing field. It's the best-performing SMG by far, and you have to use it if you want to be competitive.
Modern Warfare 3's multiplayer has been overwhelmed by Assault Rifle and Sniper play. The Holger 556, MCW, and Katt have a vice grip on the neck of the competition. Thankfully, the Rival-9's best loadout is nearly unbeatable up close. If you're a speed demon looking to take over the map with your pace of play, this is the perfect pick for you.
Related: Best FOV Settings For Modern Warfare 3
Best Rival-9 Loadout in MW3: Attachments & Playstyle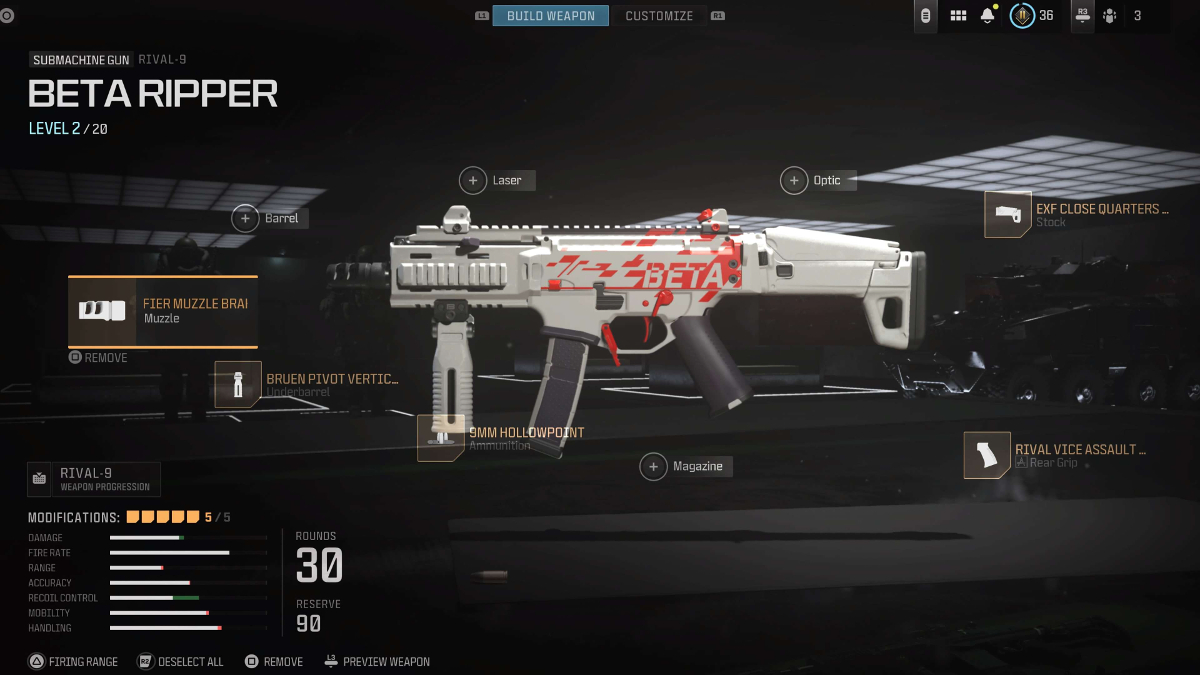 The Rival-9 isn't great without all of the right attachments. This is the case for most MW3 guns, but the SMGs feel drastically worse without barrels, grips, and stocks to fix them up. There's no more weapon tuning either, so picking the right attachments is just as important.
This Rival-9 build is directly inspired by pro players, but I've adjusted it slightly since they play with restrictions that don't apply to public matches.
| Rival-9 Parts | Attachments |
| --- | --- |
| Muzzle | Purifier Muzzle Brake |
| Underbarrel | Bruen Pivot Vertical |
| Ammunition | 9mm Hollowpoint |
| Rear Grip | Rival Vice Assault Grip |
| Stock | EXF Close Quarters Stock |
I've spent a lot of time using the Rival-9 weapon so far in Modern Warfare 3, and I can confidently say the Purifier Muzzle Brake is its best attachment. Horizontal Recoil is a considerable concern, so getting that checked off is paramount to making the gun work. This is helped by the Bruen Pivot Grip, which takes care of most of the Vertical Recoil and Gun Kick. They're a more powerful duo than Hall & Oates…or Zack & Cody.
The EXF Close Quarters Stock and Rival Vice Assault Grip only extend the harmony. They certainly play second fiddle, but they're important parts of the band anyway. You could maybe swap one of them out for some extra Aim Down Sights speed if you need it, but I've found you can get away with hipfiring to make up for that lack of snappiness.
Also, 9mm Hollowpoints deal Crippling damage to your enemies, slowing them down and leaving them helpless against your aggression.
Related: MW3 Prestige System Explained: Max Level Cap, Rewards, & How to Prestige
Rival-9 Loadout: Vest & Perks
The best Rival-9 loadout perks are dependent on what you're trying to accomplish. I've found that switching to the Engineer Vest is absolutely worth losing some of that Infantry speed. Engineer also takes away your Lethal grenade, but you get to run EOD Padding and Tac Mask as a result, and staying safe from explosives and crowd-control tactics is incredibly valuable for SMG players.
You'll want to stick with the Infantry Vest for Search & Destroy, but otherwise, try out this setup.
Vest: Engineer Vest
Gloves: Quick-Grip Gloves
Boots: Covert Sneakers
Gear: EOD Padding
Gear: Tac Mask
I like to run double Stun Grenades in my Tactical spot, with the A.C.S. Field Upgrade. Completing Daily Challenges is crucial in MW3, so having a little mechanical contraption play the objective for you can make a difference in modes like Domination and Hardpoint.
Trophy Systems are also good if you want to be a team player, but I'm selfish and take full advantage of the protection my Perks give me.
That's the best Rival-9 loadout in the game right now. Remember that things can change quickly in the early days, so be on the lookout for any updates to this build. We'll have the most up-to-date version here waiting for you every time.