Diving in Coral Island: How to Unlock the Merfolk Kingdom & All Sea Critters
There's a whole new world to explore underwater. Here's everything you need to know about Diving in Coral Island.
Coral Island includes every feature you'd expect from a farming sim game while remembering its Indonesian roots with its novel diving mechanic. We know the basics of fishing, farming, and mining all too well, but what is this new activity all about?
You suit up in an adorable diving ensemble, team up with a cute robo-buddy, and dive into the underwater world to heal corals. The goal is simple: clear the trash so corals can breathe again. However, that doesn't mean you must clear every piece of trash in the area. And, as you explore, you might stumble upon some precious forageables, encounter critters, and even uncover a hidden civilization. This guide covers everything you need to know about diving in Coral Island.
How Diving Works in Coral Island: Tips & Tricks
Diving is pretty similar to mining. If you've played other farming sims, you'll notice that trash can be collected like rocks can be broken. Instead of a pickaxe, you'll use the scythe to remove trash from the ocean floor.
The goal is not to clear the entire area, though I'm sure that would make everyone feel better. Still, losing track of the objective will deplete your entire stamina bar.
To progress through the underwater map, you must uncover solar orbs, tiny, golden devices hidden underneath the trash. This technology will power up a solar pillar that will heal coral sites when it finds the right place. So, to heal a coral site on Coral Island, follow these steps:
Clear trash near a contaminated (black) coral site until a tiny solar orb emerges.
Activate the solar orb to power up the pillar nearby.
Remove the trash marked with red to unblock the solar energy's path.
Wait for a little cinematic, and the coral site will be healed.
Every now and then, a sea turtle or seal will be freed from a root prison when the solar pillar is activated. Interact with them to receive a stamina-replenishing snack.
How to Use Kelp in Coral Island
While diving in Coral Island's underwater map, you'll start to amass quite the Kelp collection. In the early game, I would rush back home and drop all my kelp in the shipping bin, hoping to get a bit of gold.
Don't be like me.
Use kelp to upgrade seeds, plants, and fruit trees in the lab. Kelp can be turned into Kelp Essence with the Extractor, a machine you can craft. With upgraded seeds, the quality of your produce will improve, and you'll make way more money than just by selling regular kelp.
How to Unlock the Merfolk Kingdom & Enter Underwater Caves in Coral Island
As you progress through the underwater map, you'll spot some caves with closed gates, like the Se Pulu and Dua Pulu caves.
You'll first need to unlock the Merfolk Kingdom to enter underwater caves. When you do, a character named Cho Oyu will give you access to the caves.
Related: Romance in Coral Island: All Romance Candidates, Marriage & Children
I unlocked the Merfolk Kingdom in Coral Island by following the retreated root and opening the root-infested gate in Dua Pulu. This is all part of a main quest, so you should stick to the Heal the Ocean quest to get there.
How to Follow the Retreated Root & Find a Way to Open the Gate in Coral Island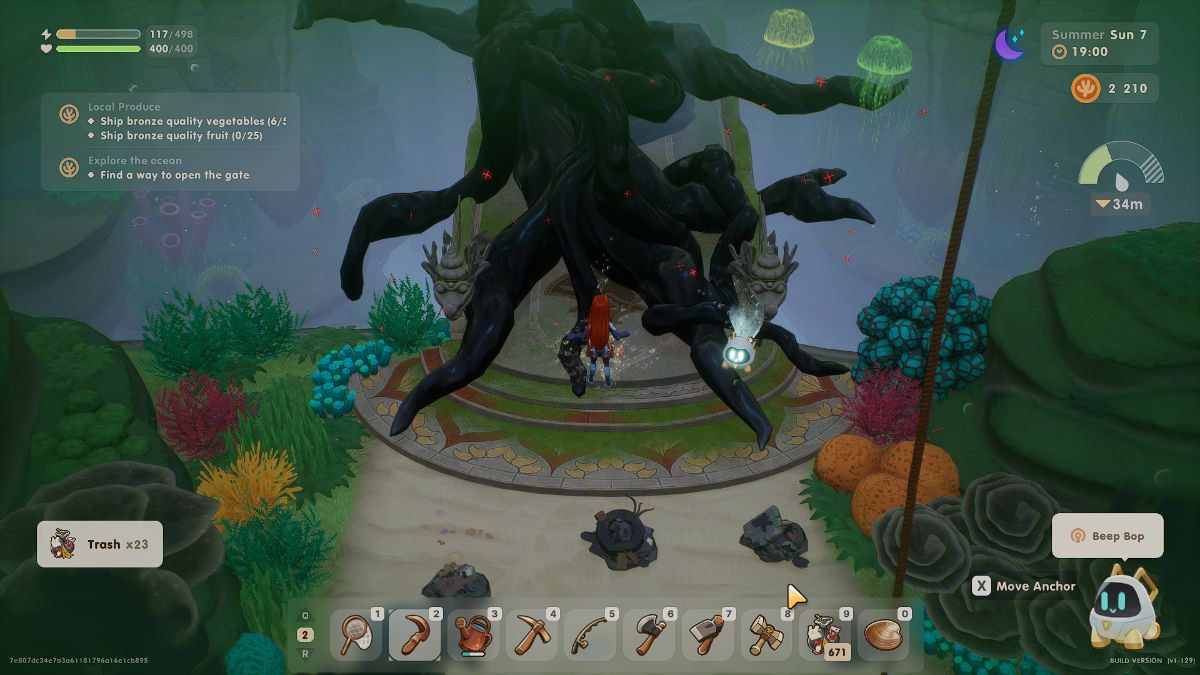 After cleaning your first 20 coral sites, all of Se Pulu will be cleansed of the root. This will trigger a cutscene where you'll meet some of the Merfolk. Though they'll flee the scene, you can catch up with them by following the retreated root. However, this is easier said than done since the path is often blocked.
To follow the retreated root in Coral Island, I cleaned coral sites along the way. Usually, after cleaning one or two, the root barrier blocking the way would disappear.
Eventually, the root took over a gate, and the quest objective became quite vague: "Find a way to open the gate." To open the gate to the Merfolk Kingdom in Coral Island, I healed all 20 Dua Pulu coral sites. This instantly caused the root to retreat further back, leaving the entrance to the Merfolk Kingdom open.
All Sea Critters in Coral Island & Where to Find Them
| Appearance | Sea Critter Name | Season | Time | Location |
| --- | --- | --- | --- | --- |
| | Arrow Crab | Spring and Winter | Evening and Night | 10m |
| | Common Starfish | Any | Any | 10m |
| | Tigertail Seahorse | Spring, Fall, and Winter | Evening and Night | 10m |
| | Blue Lobster | Fall and Winter | Evening and Night | 10m |
| | Mauve Stinger Jellyfish | Summer and Fall | Evening and Night | 10m |
| | Cannonball Jellyfish | Spring, Summer, and Fall | Any | 10m |
| | Upside-down Jellyfish | Any | Morning and Afternoon | 10m |
| | Pom-pom Crab | Spring and Summer | Any | 10m |
| | Sea Slug | Any | Any | 10m |
| | Venus's Flower Basket | Spring, Fall, and Winter | Any | 10m |
| | Yeti Crab | Spring and Summer | Evening and Night | 10m |
| | Flowerhat Jellyfish | Spring, Summer, and Winter | Evening and Night | 20m |
| | Jayakar's Seahorse | Spring and Fall | Any | 20m |
| | Skunk Cleaner Shrimp | Any | Any | 20m |
| | Eight-armed Sea Star | Any | Morning and Afternoon | 20m |
| | Whelk | Spring | Any | 20m |
| | Mantis Shrimp | Spring and Winter | Any | 20m |
| | Hermit Crab | Any | Any | 20m |
| | White-spotted Jellyfish | Fall and Winter | Evening and Night | 20m |
| | Calico Lobster | Summer, Fall, and Winter | Evening and Night | 20m |
| | Brisingida Starfish | Fall and Winter | Any | 20m |
| | Ruby Seadragon | Summer, Winter | Morning and Afternoon | 20m |
| | Giraffe Seahorse | Any | Any | 40m |
| | Atolla Jellyfish | Spring, Summer, and Fall | Any | 40m |
| | Cauliflower Jellyfish | Summer and Fall | Any | 40m |
| | Horseshoe Crab | Spring and Summer | Evening and Night | 40m |
| | Blue Crab | Spring, Summer, and Fall | Evening and Night | 40m |
| | Sexy Shrimp | Any | Morning and Afternoon | 40m |
| | Split-colored Lobster | Spring and Winter | Evening and Night | 40m |
| | Crown-of-thorns Starfish | Spring, Summer, and Winter | Any | 40m |
| | Hedgehog Seahorse | Any | Any | 40m |
| | Chambered Nautilus | Spring | Morning and Afternoon | 40m |
| | Fuchsia Flatworm | Summer, Fall, and Winter | Morning and Afternoon | 40m |
| | Bloodbelly Comb Jellyfish | Any | Any | 50m |
| | Pink Meanie Jellyfish | Winter | Any | 50m |
| | Harlequin Shrimp | Summer and Winter | Evening and Night | 50m |
| | Cotton Candy Lobster | Fall | Evening and Night | 50m |
| | Sunflower Sea Star | Sea Star Summer | Any | 50m |
| | Red Knob Starfish | Summer and Winter | Any | 50m |
| | Blue Starfish | Spring, Summer, and Fall | Evening and Night | 50m |
| | Leafy Seadragon | Fall | Morning and Afternoon | 50m |
| | Shiho's Seahorse | Fall and Winter | Any | 50m |
| | Sea Anemone | Any | Any | 50m |
| | Giant Isopod | Summer and Fall | Morning and Afternoon | 50m |
| | Stone Crab | Spring, Fall, and Winter | Evening and Night | 50m |
All Ocean Scavengeables in Coral Island & Where to Find Them
| | | |
| --- | --- | --- |
| Appearance | Ocean Scavengeable | Location |
| | Black Sea Urchin | 10-20m |
| | Blood Clam | 10-20m |
| | Duck Mussel | 10-20m |
| | Giant Clam | 10-20m |
| | Jackknife Clam | 10-20m |
| | Mediterranean Scallop | 10-20m |
| | Pacific Oyster | 10-20m |
| | Steamer Clam | 10-20m |
| | Zebra Mussel | 20-30m |
| | Amber Pen Shell | 20-30m |
| | Belon Oyster | 20-30m |
| | Blue Mussel | 20-30m |
| | Calico Scallop | 20-30m |
| | Cherrystone Clam | 20-30m |
| | Eastern Oyster | 20-30m |
| | Gooseneck Barnacle | 20-30m |
| | Purple Urchin | 20-30m |
| | Quahog | 20-30m |
| | Bay Scallop | 40-50m |
| | Blue Oyster | 40-50m |
| | Green-lipped Mussel | 40-50m |
| | Green Sea Urchin | 40-50m |
| | Kombu | 40-50m |
| | Kumamoto Oyster | 40-50m |
| | Patagonian Scallop | 40-50m |
| | Razor Clam | 40-50m |
| | Sea Lettuce | 40-50m |
| | Geoduck | 50-60m |
| | Heart Urchin | 50-60m |
| | Horse Mussel | 50-60m |
| | King Scallop | 50-60m |
| | Olympia Oyster | 50-60m |
| | Queen Scallop | 50-60m |
| | Red Sea Urchin | 50-60m |
| | Sea Grapes | 50-60m |
| | Arame | Any |
| | Sea Mushroom | Any |
| | Sea Salt | Any |
| | Seaweed | Any |