Red Dead Online Bard's Crossing Treasure Map & Chest Location
RDR2 Online Bard's Crossing Treasure Map Guide brings tips on How To Unlock Bard's Crossing Treasure Map and all three Treasure Chest Spawn Location. Rank 10 is required to play this treasure hunt, the chest spawns randomly on three different places near the Flatneck Station. You can read our guide to explore those regions and find important tips on how to find the chest easily.
Where To Find RDR2 Online Bard's Crossing Treasure Map & Chest Location
RDR Online has hidden Treasures around the massive Free Roam world, Bard's Crossing is one among many. There is a different spot's near Flatneck Station where you can spot the chest and gather the Gold Bars from the Treasure Chest. The hunt for treasure starts with finding the Treasure Map first.
Unlock Bard's Crossing Treasure Map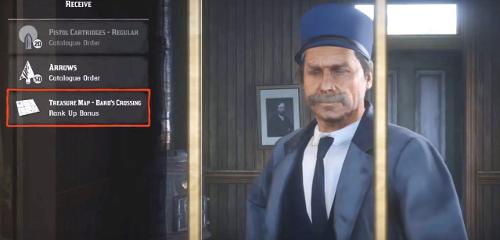 A Treasure Map is a Rank Up Bonus, reach around Rank 10 and visit the Post Office. Talk to the clerk to receive the Treasure Map – Bard's Crossing from him. After taking the map, open map to get the location of the chest. The challenge in this objective is the chest does not stay in one place, there are three prominent places you can find using Eagle-Eye.
Bard's Crossing Treasure Chest Location
Visit the yellow region marked on the map. Now there are three places to search the chest. You can visit nearby and use Eagle-Eye to spot the chest. Refer the below Map Image, it has three markings with fairly accurate areas to explore for the chest. All three spawn locations are near the station, you have to walk a bit and use Eagle-Eye to get to the accurate spot. Just search in below areas. Your controller will start vibrating once the chest is near, the more you reach near the more it will vibrate, so it is a kind of good indication that you are heading to the right spot.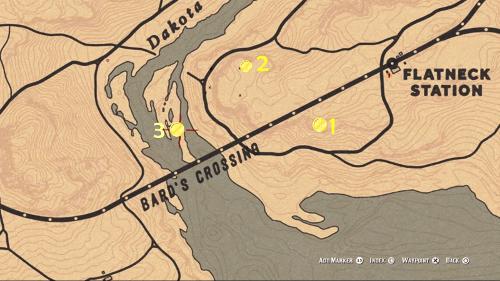 Location 1: Go to the south of the tracks, straight west of Flatneck Station. Look for a rocky plane, the chest is placed below a titled rock.
Location 2: Towards the north of the tracks, on the side of the cliff activate Eagle-Eye to locate the chest. Walk to the edge of the cliff.
Location 3: Cross the river and walk towards the shore of the island, refer the third marked location in the above image. Search for a fallen tree near some big rocks, the chest is placed just below the rocks.
While using Eagle Vision look for the glowing spot, that is the one that has treasure, you can earn some good amount of golden nuggets and cash from it.
Don't forget to read our Red Dead Redemption 2 Wiki guide, which is a massive index of lots of guides and tips on the game.