Red Dead Online Tips On Making Money Extremely Fast In Rhodes
Fast money making is the hottest thing many players want to do first in Red Dead Redemption Online. Without enough cash you can't do much in the game, the payout process is pretty low. You won't be rewarded much for doing basic activities so there are certain shortcuts that can instantly help you to make a good amount of money. You can go through our guide on Making $500 And 1.3 Gold Bars Every 3 Hours and 5 Best Ways To Make Money Fast to find out different ways along with one included in this guide.
This guide is based on a post by Reddit User – ArffXO, who had shared a way to earn around $20 to $30 in every 2 to 5 minutes. This sounds pretty interesting and we think this will really helpful for our viewers who are struggling to find a shortcut. The guide focus on the hunting section of the game, the user found a way through which he can sell out some good stuff instantly for cash. The guide has the official source link of Reddit post, you can visit that for comments and more info.
Fast Money Making Guide – Tips To Earn $20 to $30 In Ever 2 to 5 minutes.
Follow the tips below to earn a decent amount of cash, but remember the animal spawn location mentioned below are not frequent. Some players are able to get them and some or not. You have to re-visit the place to hunt next time.
Extremely Fast Money Making Tips
According to the tips posted by the Reddit User, the process is to visit a place and hunt Spoonbills. Kill them and carry the pelt to the butcher. Sell them and return back to the same place and keep selling to stack cash. The recommended weapon is Varmit Rifle. Below the map location marked by Reddit User – ArffXO, the big circle is the place where Spoonbills will spawn, hunt them and gather pelts.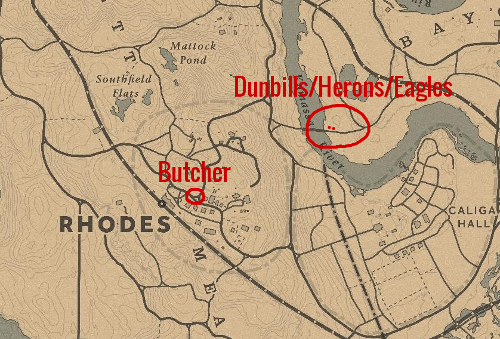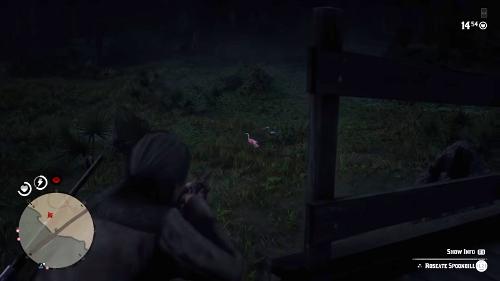 You will have to cross a bridge and just on the left side as the bridge end you will find two Spoonbills bird. Shoot them down and gather the feather, meat, carcass, etc.
Below are the items to gather and their approx cost:
Perfect Roseate Spoonbill Carcass – $4 Each.
Good Roseate Spoonbill Carcass – $2.40 Each.
3x Flight Feather (Per Bird) – $0.15 Each.
3x Gamey Bird Meat(Per Bird) – $0.25 Each.
3x Spoonbill Plume(Per Bird) – $1.95 Each.
You can get around two carcasses, three to six feathers, plume, and some meat. The right amount of items can pay decent money and replaying the same process will double it.
Sometime you might not find Spoonbills, you have to return back after sometime and try again. There are other birds and animals also in the same region you can use for hunting.
Don't forget to read our Red Dead Redemption 2 Wiki guide, which is a massive index of lots of guides and tips on the game.
Reddit Source: ArffXO