A Short Walk in a Pretty Town Walkthrough | Red Dead Redemption 2
In the previous mission Friends in Very Low Places, Arthur robbed a stagecoach. For the next mission called A Short Walk in a Pretty Town, you have to find Bill who is in Rhodes. You will find him sitting on the right side of the statue.
A Short Walk in a Pretty Town Walkthrough
Use Dead Eye to kill 3 Lawmen while saving bill and use only a sidearm for this mission. You have to get 20 headshots and finish off everything under 4 minutes and 30 seconds without using a health item.
Walk In The Town | A Short Walk in a Pretty Town
After a short walk, everyone will stop, and you will see a fire-fight. You will be able to take control of Arthur after he runs for cover. This fire fight will take a long time, you will have to kill a lot of people here. Arthur will be really angry on Bill for nothing understanding this is a trap. The mini-map will help you to find out the range of attack. Look for the red arc, shoot in that direction.
Enter the back of the gun store | A Short Walk in a Pretty Town
Once you made alive through the first wave of the fight, you have to run into the gun store. Don't waste your time in doing that, run towards the gun store. Don't break the lock of front door if you are constantly facing bullets kill the men first. The door on the front is locked, run to the left side of the gun store there is another door in the corner. Don't just enter, there are two enemies inside. One will attack you directly and another one will be near the counter.
Kill Gray's Men | A Short Walk in a Pretty Town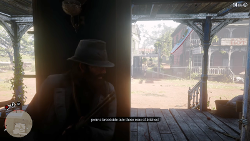 Use a rifle here, you can now easily target enemies outside. Kill those who are on foot first, then target the horsemen. Most of them will come and stand in front of you. After killing a bunch of enemies the remaining one will run away. You can get some revolver cartridges from the shop. Walk towards the Sheriff's office and you will hear he locked himself in the office.
Kill The Sheriff | A Short Walk in a Pretty Town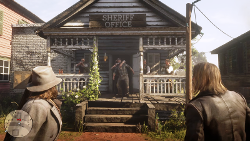 He will come out after a short time and you will see Bill is taken as a hostage. Once your pal starts shooting on them activate dead eye and mark the one first who is pointing a gun on Bill's head. Then there are three more around.
Arthur will see his dead friend Sean and the will be unhappy with what happened. Arthur will warn Micah to get out of his site, and the mission is over. Rhodes will be locked down, if you have any plan to return then it will be highly risky. You can read our walkthrough on the next main mission Blood Feuds, Ancient and Modern. To start this you will have to talk to Dutch. People in the camp are worried about the boy Jack.
For similar guides, tips and updates on the game do have look on our Red Dead Redemption 2 Wiki guide.