The top 10 sexiest Fortnite skins – Sexiest female and male skins
Overwhelm your enemies with the power of allure.
We've all got lockers filled to bursting with skins in Fortnite. Each new season brings a slew of them that we equip as we work through it, only to cast them aside when something new and shiny comes along. However, sometimes it feels good to look nice and make other players stop and stare at the sheer beauty of your skin and its sex appeal. That's why we've put together this list of the top sexiest Fortnite skins, so you can track down the ones that will make people stop in their tracks.
Related: All NPCs that can be hired in Fortnite Chapter 4 Season 2
The top 10 sexiest Fortnite skins
In this list, we've outlined what we believe to be the sexiest Fortnite skins out there. This includes male, female, and animal skins. They're listed in no particular order because beauty is in the eye of the beholder, and all of these skins are sexy to us.
Aloy
Aloy was added to Fortnite in Chapter 2 Season 6 and continues to be one of the most stunning skins in the game. She appears now and then in the Item Shop for around 1,500 V-Bucks and is an essential purchase for any fan of the Horizon franchise. Her skin is great because it shows how a character can be sexy without wearing anything revealing. We love Aloy and want to see much more of her in Fortnite.
Ariana Grande
Ariana Grande's Rift Tour brought with it two incredible skins. Both are iconic and based on the celebrity, but it's the more realistic version that we believe is the best. It's hard to argue that Ariana Grande isn't one of the most attractive celebrities on the planet, and that, combined with the fact that her skin is almost as stunning as she is, is why we've added her to this list. You can get both of her skins, one of which is comprised entirely of crystals, every 100 days or so from the Item Shop in-game for 2,000 V-Bucks.
Aquaman
There's absolutely no denying that Aquaman, as portrayed by Jason Momoa, is one of the sexiest things ever to grace your screens. Thanks to a brilliant crossover, you can now become this god in every match you take on. The skin was exclusively part of the Chapter 2 Season 3 Battle Pass, and it hasn't been seen since. If you own it, wear it as much as you can so the rest of us can witness its beauty.
Drift
Drift is a legendary Fortnite skin added to the game in Season 5. He also happens to be pretty close to the Aquaman skin when it comes to sexiness. His bulging biceps and toned muscles are very hard to resist, as is the price of 1,500 V-Bucks for him when he pops up in the Item Shop.
Related: The rarest Fortnite skins
Doctor Slone
You'll recognize Doctor Slone from the IO Inquest set that came to Fortnite during Season 17. Her sexiness comes from her badass power suit, which makes her look like she could crush you between two fingers. Everything about this skin hits the right notes of style, sex appeal, and a little bit of superiority. At the time of writing, you can't get this skin in the game any longer, but it may come back in the future. We're hopeful to see her rainbow outfit again one day.
Eddie Brock
In real life and in Fortnite, very few people are sexier than Tom Hardy. If you fancy it, you can immortalize him by grabbing this skin when it next appears in the Item Shop. Honestly, no skin captures someone's likeness as this one does. It was added in Chapter 2 Season 8 but may appear in the future if there's a tie-in with the next Venom movie. After all, Venom is the other style you can access with this skin.
Eren Jeager
Eren Jaeger of Attack on Titan fame has eyes of steel that feel like they could cut through you just like he would with his sword in a fight. This anime skin was added to Fortnite in Chapter 4 Season 2 and required you to complete a set of challenges to unlock it. While Fortnite has had a few decent anime skins, very few are as sexy as this.
Geralt of Rivia
It's hard to say if any video game character has ever been sexier than Geralt of Rivia, but we certainly can't name any. Whether you're imagining his bathing scene or cutting through other players in a match, this skin is always sexy. To get it, you needed to complete a set of challenges in Fortnite Chapter 4 Season 1, and it's hard to say if it will ever return.
Related: The 10 best free Fortnite skins, ranked
Harley Quinn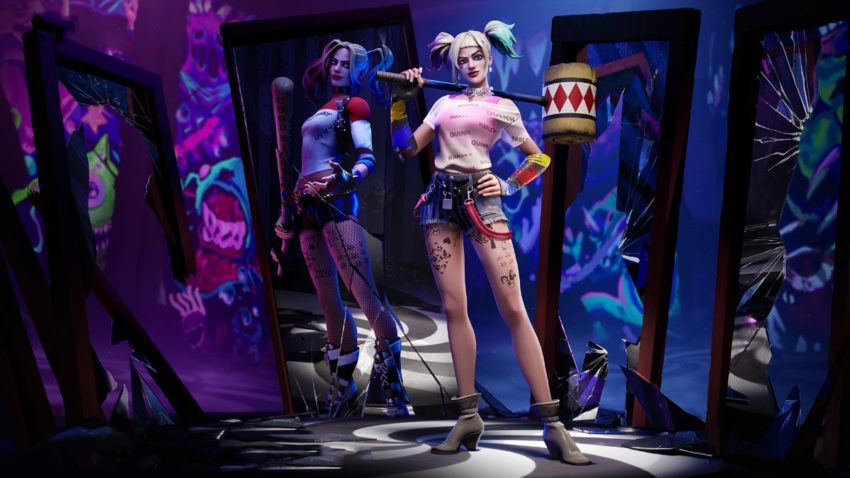 There are few sexier superheroes, anti-heroes, or supervillains than Harley Quinn. She's the Joker's right-hand girl but basically runs the show, and she knows it. Between her tattoos, the bubblegum she chews, and the way she threatens you with pure violence while making you feel like the luckiest person alive are unrivaled. Her skin regularly appears in the Item Shop for 1,500 V-Bucks and comes with an alternative look, Always Fantabulous, that's the cutest version of her in any media.
MVP
MVP is one of the most beautiful skins that's ever been added to Fortnite. It was first part of Chapter 2 Season 3, but has since appeared in the Item Shop a few times over the years. There's no single defining feature that makes this skin so gorgeous. It's just all-around incredible and would make us stop and follow the player using it to the end of the map and back. When it does crop up in the Item Shop, you can snag it for 1,500 V-Bucks, so make sure you've got a decent pot to spend.