How To Remove Black Bars In God of War PS4 [Fit FullScreen]
God of War PS4 (2018) is finally available to PlayStation 4 owners worldwide. The game has been optimized perfectly for standard PlayStation 4 and PlayStation 4 Pro. So far we have not received any report of major performance issue. One small issue that some players are experiencing is that the game fails to fit their screen i.e. black bars is visible at the Top, Bottom, Left and Right side of the screen. The good news is that the fix for the issue is available, all you have to do is make some changes in the setting section.
How To Run God of War 2018 In FullScreen [Remove Black Bars]
Step 1: Go to the PS4 Settings option
Step 2: Select Sound and Screen option
Step 3: Select Display Area Settings
Step 4: Select the option Increase Display Area (check screenshot below)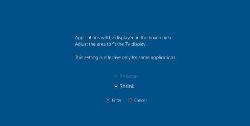 In this Increase Display Area, make the changes as per your requirement i.e. how much area of the screen you want to Enlarge. That's it, the fix mention above will eliminate the Black Bars in God of War PS4. For more interesting guide like this, check out our God of War PS4 Wiki Page.