God of War PS4 Pro 1TB Bundle Leaked By Bulgarian Retail Website
There might be a Limited Edition of God of War in the works, which will come bundled with the PS4 Pro. Or so it seems from a PS4 Pro listing on a Bulgarian retail site, you can check the listing by clicking on the link below.
There has been no official announcement by Sony about this, so this should be taken lightly because as of now it is just a rumor and an early listing by the retailer. And regarding the listing, it shows God of War being bundled with 1TB version PS4 Pro. And why is it limited edition? Because the box shown in the listing says 'Limited Edition'. And the artwork of the listing is also not final, so there is a chance that this might not be 100% legit.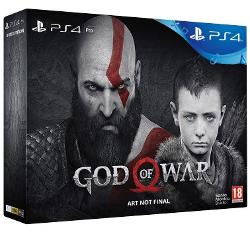 In other news, God of War will be released in three different editions i.e. Standard Edition, Digital Deluxe Edition and Collector's Edition, on 20th April. And if you pre-order the game, you will get an extra DLC however, this offer is only available at select retailers.