Top 11 The Witcher 3: Wild Hunt's Easter Eggs You Might Not Have Noticed
Essentially being a role-playing game from role-playing games fans, The Witcher 3: Wild Hunt quite obviously contains lots of references, in-jokes and easter eggs. We bet programming them has been at least as fun for CD Projekt RED as for players to find them during regular gameplay.
Anyway, here you have a complete list of what we have been able to find since day one but, in case you have some other stuff about this topic, feel free to share in the comments section below.
STAR WARS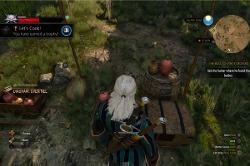 A minor character called Djenge Frett can be found in Svorlog, Skellige. He is a clear reference to Jango Fett The Bounty Hunter from the Star Wars saga
WILHELM SCREAM
Try and make Geralt fall from a height: you will hear the Wilhelm Scream. The Wilhelm Scream is a sound effect commonly used in 50's movies for characters who are falling from a high distance. This sound is common that it even had a place in the Star Wars saga.
GERALT'S PENIS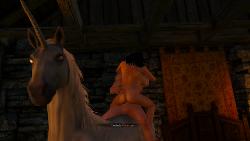 Well, we don't know if this is actually an easter egg, but it is worth reporting. Website PC Games.de installed a free-camera mod and discovered that, even though he is a proper latin lover, Geralt doesn't have a penis after all. Surprised to hear this?
BREAKING BAD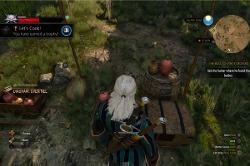 Just acquire 12 separate potion diagrams from the alchemy menu and you will unlock the Trophy/Achievement "Let's cook!". This clearly is a reference to AMC's Breaking Bad TV show.
DOCTOR WHO
Talking about TV shows, CD Projekt RED has reserved a place for Doctor Who, too. Go to the church near Lindenvale. There, you'll see a pair of odd-looking statues standing outside. Explore inside the church and return outside - wait, was that statue facing towards you before? Turn to leave the area, then look back over your shoulder. Where did the statue go?
MONTY PYTHON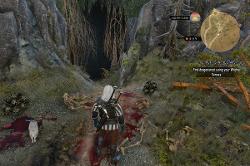 Fans on Reddit have discovered random thieves shouting "your mother was a hamster and your father smelled of elderberries!", a clear reference to Monty Python.
PULP FICTION
Another movie-inspired dialogue can be heard at Bloody Baron's basement, where two NPCs you can find following a red trail with Witcher's senses talk in Pulp Fiction-style.
GAME OF THRONES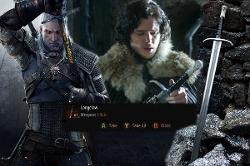 CD Projekt RED seems to be a huge fan of Game of Thrones, and The Witcher 3: Wild Hunt appears to be pretty similar to the TV show's tone and mood as well. We have spotted two references so far. The first regards the Longclaw sword, which both Geralt e GoT's character Jon Snow can use during their fights.
The second easter egg is a reference to Tyrion Lannister. Look at this video to discover what it is about:
SKYRIM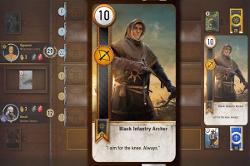 There's even room for a Skyrim reference, even if CD Projekt RED has always been trying to differentiate its game enough from Bethesda's. If you play Gwent, you might have noticed a Black Infantry Archer card (10) whose description says: "I am for the knee. Always". Does this remind you of something?
CD PROJEKT RED'S LOGO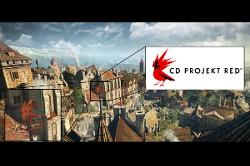 Artists use to sign their art works some way. CD Projekt RED has chosen to put its logo in The Witcher 3: Wild Hunt as spinning weather-mains/weathercocks of each in-game city.
FALLOUT
Bethesda-inspired easter egg, again. Several NPCs says "War – war never changes" when you try and talk to them. As you surely remember, this is the first line spoken during the Fallout 3 intro.