Red Dead Redemption 2 | We Loved Once and True Walkthrough
Arthur saved Sean in the previous mission The First Shall be Last from bounty hunters. The next main mission you can play is We Loved Once and True. To start this mission you will have to look for a letter that is kept on your desk. The letter belongs to Mary Linton who was once in relation with Arthur. She will insist you to see her where she will give you a task.
​
We Loved Once and True Walkthrough
To earn Gold Medals you will have to work on two things, first you will need to peacefully convince the Chelonians to allow you to take Jamie and return him back to Mary within 2 minutes
Meet Mary Linton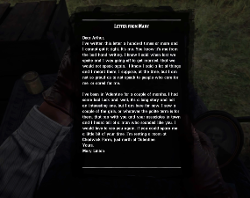 ​
Read the letter and you will find she will ask you to meet her at Chadwick Farm on the north side of Valentine. Knock the door and watch the cutscene. A woman will open the door with a gun in her hand. She will call Mary Linton. She will ask for help about her little brother Jamie who had joined a wired cult the Chelonians.  You will have a choice here to Help Mary or Don't Help Mary. Select the first to continue the quest.
Talk To Chelonians 
You will find the group on the top of a mountain, now here you have choice to go sweet or try a harder way. To earn gold medal you will need to negotiate like a gentleman. Jamie will be behind the cultist and one among them will speak to you. To peacefully talk to them for releasing Jamie go with two options Undecided and Purpose. The cultist will allow you to speak to Jamie, but he will eventually run away.
Chase After Jamie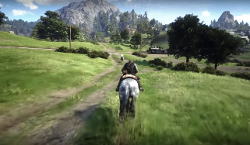 ​
Chase Jamie and he take you for a really long ride. But he will stop once he crosses the railway track and you will see him handling a gun and he will threaten to shoot himself. You will have to stop him from doing this. He will shoot a warning shot first and then aim it on his head. Slowly press R2 to fill the meter, you have to go very slow here. Aim the gun and shoot it the gun on Jamie's hand to save him. Jamie will realize his mistake, take him to Mary. Just follow the train tracks to reach the station.
Go to the station and in the cutscene you will see Marie and Jamie takes a train leaving Arthur behind. This is the end of this mission. The next mission you can play is The Spines of America. To start this one goes to Emerald Ranch and find Hosea. You can see it on the map. 
For similar guides, tips and updates on the game do have look on our Red Dead Redemption 2 Wiki guide.