The Battle of Shady Belle Walkthrough | Red Dead Redemption 2
In the previous mission Blood Feuds, Ancient and Modern, Dutch and his gang burnt down Braithwaite's Manor in search of Jack. The old lady Catherine Braithwaite told them that her sons gave the boy to Angelo Bronte and they can probably found him in Saint-Denis.  The final main mission of Chapter 3, The Battle of Shady Belle starts directly after this where you will see Dutch discussing Jack.
The Battle of Shady Belle Walkthrough
For Gold Medal, you will have to take down all the Lemoyne Raiders in Shady Belle and clear two bodies within 1 minute 40 seconds. Next, you have to wind up everything within 11 minutes.
The Pinkertons | The Battle of Shady Belle
Just after attacking Braithwaite's mansion at the camp, the Pinkertons returns for Dutch and they will offer a deal, where they will take Dutch and the gang can go free. But the gang members won't be ready for this, the Pinkerton will leave the place and warn everyone that he will return back with 50 men and kill everyone. Dutch will give you a task and ask others to pack things up.
Ride To Shady Belle | The Battle of Shady Belle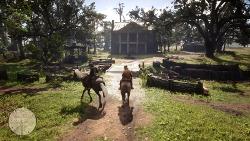 Go to Shady Belle to inquire about Jack. You will arrive at a mansion while following the yellow line. This place will be occupied by Raiders. The fight will begin once you un-mount your horse and walk towards the house.
Search the rooms for any Lemoyne stragglers  | The Battle of Shady Belle
Go slow and once you cross the fountain shoot down one of the enemies near the pillar on your right. There will be two of them. After killing them go inside and walk towards the yellow patch, you will find a few. It is an easy fight, you won't face many challenges. One of the requirements of the Gold is to bring one of the bodies down with you and dump two in 1 minute and 40 seconds. You will find an old man on top who will shoot himself, and one last you will find in the same room on left.
After killing all you will need to dump the bodies in the swamp with John, you will see yellow dot's on the mini-map that will give you the locations of the bodies. Pick them and dump them in the swamp. The mission is over once you are done with the bodies, you will see Dutch riding in with the caravan. You and Dutch will ride to the nearby big city Saint-Denis which will trigger Chapter 4 Saint-Denis. The first mission of this new chapter is The Joys Of Civilization. The objective of this mission is to find a clue on Angelo Bronte in St. Denis.
For similar guides, tips and updates on the game do have look on our Red Dead Redemption 2 Wiki guide.