Where To Find The Legendary Alligator Location | Red Dead Redemption 2
There are 16 Legendary Animals in Red Dead Redemption 2, and Legendary Alligator is one of them. A lot of players are finding it difficult to located and hunt down the Legendary Alligator in RDR2. To help them out, we are going to share the exact location of Legendary Alligator in Red Dead Redemption 2. We have also listed a few important tips you should follow while hunting the Legendary Alligator. Hunting down legendary animals in Red Dead Redemption 2 is not an easy task, so don't take things too lightly, and on top of that make sure you have the right weapons in your weapon wheel and follow the tips provided below.
Red Dead Redemption 2 Legendary Alligator Location | RDR2
The rewards you earned from hunting the Legendary Alligator are  Legendary Alligator Skin and Legendary Alligator Tooth. 
Where To Find Legendary Alligator Location In RDR2
We have marked the exact location of Legendary Alligator in the map below. You will find Legendary Alligator on the banks of Lake Lagras (South), North/West side of the Lakay in the Bayou Nwa region.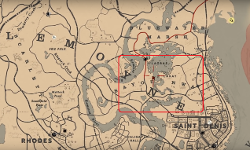 6 Tips To Kill Legendary Alligator | Legendary Alligator RDR2 Location
Hunting down Legendary Animals in Red Dead Redemption 2 is not simple, it's not like you will arrive at the place marked below and the animal will spawn in front of you and you will hunt it down with your powerful weapon. After arriving at a place you will have to track the legendary animal via clues (three clues in total for Legendary Alligator).
Tip 1: As soon as you land in the area marked in the map above, you will receive an in-game notification that you have entered a "Legendary Animal Territory". You will be notified via the black box on the top left corner of the screen.
Tip 2: As soon as you received the notification, get down from your horse and walk slowly in a spiral course until a new notification appears on your map: Question Mark "?" symbol in white color. This is an indication that your quest to track and hunt the Legendary Alligator starts now.
Tip 3: At the "? mark, you will be asked to press the button to start the investigation of the clue the legendary Alligator has left. From here, click the LEFT and RIGHT Analog sticks to enter the detective mode i.e. Eagle Eye mode. You will find clues (in total 3 clues), all you have to do is follow the path at the end of it there will be a new clue that will lead you to the Legendary Alligator location.
Tip 4: Don't panic or get excited when you spot the Legendary Alligator, and the most important thing, don't even think of going close to the Legendary Alligator and start the battle.
Tip 5: To hunt Legendary Alligator easily you have to do two things. First, select a weapon that you can use from a distance like Sniper Rifle (check out our guide on Best Sniper Rifles in Red Dead Redemption 2) or a long scope rifle. Second, avoid getting spotted by the Legendary Alligator. Make use of the Dead Eye and target the critical part of the Legendary Alligator - head. The best part is that the pelt of the Legendary Animals is not damage, this gives you the freedom to fire as many shots as you can at them.
Tip 6: Once you have successfully hunted down the Legendary Alligator, go to the carcass and skin it.
NOTE: If by any means the Legendary Alligator got away i.e. took the damage and run to save his life and disappeared in the region then for it to respawn you will have to leave the area and camp nearby and sleep for 72 hours and then come back.
That's all we have on the Red Dead Redemption 2 Legendary Alligator Location And Hunting Tips. For more interesting guide like this follow our Red Dead Redemption 2 Wiki Page - it carries 5 Control Tweaks to improve your gameplay, All Hunting and Fishing Maps, list of best RDR2 Tips and Tricks, how-to guides, and more.