The Fine Art of Conversation Walkthrough | Red Dead Redemption 2
In the previous mission Honor, Amongst Thieves, Arthur helps Captain Monroe in retrieving medicines and vaccines from the clutches of Colonel Favours. The next mission is The Fine Art of Conversation, and to start it find Josiah at the camp. This will trigger a cutscene where you will see Charles brings Rains Fall who wants to discuss something very important. Captain Favours has agreed for a peace meeting, Rains Fall wants you to join him because tribe men are forbidden. Later Arthur learned about the conspiracy of the army against Captain Monroe.
Honor, Amongst Thieves Walkthrough
To earn Gold Medal fulfill the following four requirements - Kill the pursuers, finish everything before 9 minutes and 30 seconds with 75% accuracy and avoid taking any health items.
Follow Rains Fall | The Fine Art of Conversation
Talk to Josiah Trelawny at the camp, he is sitting near a roundtable. He is leaving the camp, Arthur had sniffed his intentions and says him goodbye. Charles brings Rain Falls who want to talk to you about the peace agreement with the army. He talks about a meeting with Colonel Favours to resolve the grievances with the Native Americans. Rains Fall also accepts Colonel had lied to him many times before, but still, he wants to take a chance by attending the meeting.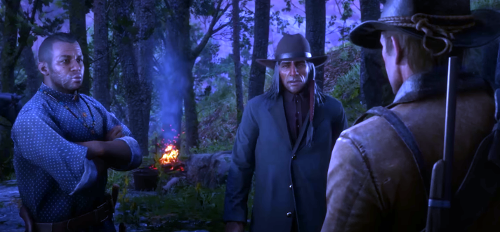 Rain Falls will request Arthur to join him, Arthur is unconvinced but Charles will force his choice by throwing the I Saved your Life sentiment. Follow him towards your horse and then follow Rains Fall.
Follow Rains Fall | The Fine Art of Conversation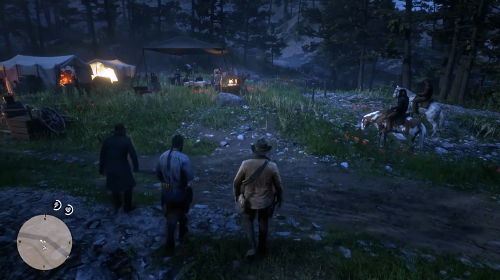 Enjoy the scenic beauty by switching to cinematic mode. Hitch your horse after reaching the tents and walk towards the table to meet Colonel Favours. Colonel Favours will begin discussing with Rains Fall after sometime Arthur will start coughing that he is unable to control.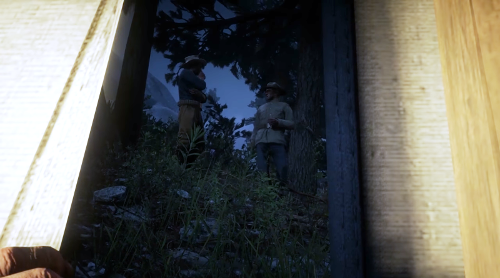 Colonel orders a guard to take him away. Arthur is escorted to a tent to rest and the guard will walk away to fetch some water. You will hear some voices outside the tent. Peek out to see who is talking and you will learn Colonel Favours wants to try Captain Monroe for treason.
Saving Captain Monroe | The Fine Art of Conversation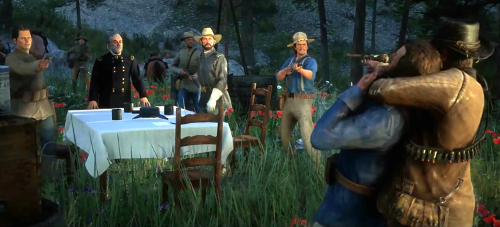 Arthur returns to the discussion table after learning about the conspiracy. Colonel Favours will start executing his plan of blaming Captain Monroe for treason, to arbitrate the situation Arthur grabs a guard as a hostage and points his gun on Colonel demanding to free the Captain. Arthur will be the last one to leave, walk backward, to get to a distance. You will gain full control after releasing the guard, mount your horse and find Captain Monroe.
Escape with Captain Monroe | The Fine Art of Conversation
While riding your horse watch for the trees, you can fall easily. You can achieve one of the Gold Medal goals of killing all the pursuers. Stay near Captain Monroe, you will have to kill every guard. The guards will shoot Captain Monroe's horse, he will fall and run towards the trees. Get down and protect him. Stay around Captain Monroe and shoot all the guards in the region. For their location check the red spots in mini-map.
Escape with Charles | The Fine Art of Conversation
It is important to find a good cover, there are rocks, tree trunks, wagon nearby. Use them as a good cover, and after killing all mount your horse. Captain Monroe will ride with you this time, on your way you will not be left alone, the pursuers will follow for the last time.
Arthur will tell Captain Monroe that Colonel is planning to hang him, take him to the train station for the last cutscene. Arthur will give Captain some money and he will spot Reverend Swanson at the train station. He is also running away. This completes the mission. You can read our walkthrough on the next main mission Goodbye, Dear Friend.
For more similar guides, tips and updates on the game do read our Red Dead Redemption 2 Wiki guide.