Mrs. Sadie Adler, Widow Walkthrough | Red Dead Redemption 2
In the last mission Goodbye, Dear Friend, Dutch, Arthur & Sadie ensured Colm O'Driscolls the leader of notorious O'Driscoll's gang and their enemy can't escape the grip of death. He is going to be hanged by the Law for hideous crimes he committed in past. Arthur and his friends shattered Colm's rescue plan. To start the next mission Mrs. Sadie Adler, Widow, you will have to talk to Sadie. She is still not content with Colm's death. She wants' to kill every one of them, and has a vital info on few O'Driscoll's boys hiding in a ranch. She compels Arthur to help her because she trust him the most.
Mrs. Sadie Adler, Widow Walkthrough
To achieve Gold Medal focus on killing the sniper with a headshot in the barn and secure it without taking any damage. Wrap up everything before 5 minutes and 30 seconds.
Meet Sadie | Mrs. Sadie Adler, Widow
Mrs. Sadie Adler is practicing her knife throwing skills and she will strongly express her purpose to take the life of every last of O'Driscolls. Driven by revenge, Sadie wants Arthur to help her in forever ending the story of her husband's killer. Compelled by Sadie's trust, Arthur agrees.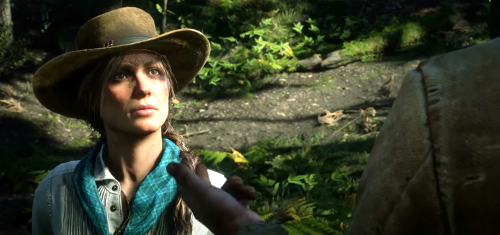 Sadie has a tip on the remaining one hiding in a barn. But before following her, Arthur ask for a promise to help John when the time comes, Mrs. Adler will take some time to figure out Arthur's intention. The cutscene will cover up the ride and time, Arthur wakes up near the barn, where unpredictable Mrs. Adler is all set to taste some blood.
Follow Sadie To The Ranch | Mrs. Sadie Adler, Widow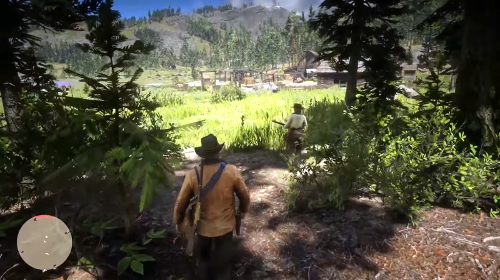 Follow Sadie before she lands herself into trouble, take cover behind the boulder outside the ranch and clear the one on the entrance and then in the open region outside the barn. Don't rush, you can spot a lot of them easily. The safest place is to take cover is the boulders, stay there and kill the one you can spot easily then walk towards the entrance. A lot of gang members will be behind the crates, carts and inside the barn. They will run around, giving you a clear view of killing them.
Kill O'Driscolls | Mrs. Sadie Adler, Widow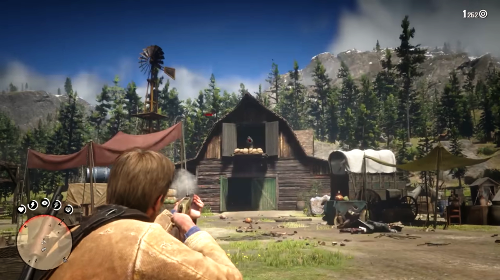 Once you are inside more O'Driscolls will attack you, and the sniper will reveal him. For Gold Medal, you will need a headshot. Look towards your right first, you will be exposed to bullets. The sniper will be an easy takedown using Dead Eye. Enter the stable and kill one on the lower level, and two on the top. Carefully watch if anyone is left, and then get outside. Enter the house on the left side, on the upper floor you will see Sadie is ruthlessly killing someone. Arthur will be a mute spectator.
Covered in blood after sitting on a chair and in grief she will utter how much she misses her husband.  She wants to stay alone for a while, she will thank Arthur and leaves alone. The mission is over, you can loot the bodies.
The next mission is Favored Sons, to start this visit Cumberland Forest, Dutch and Eagle Files are waiting for you on a cliff. For more similar guides, tips and updates on the game do read our Red Dead Redemption 2 Wiki guide.