Red Dead Redemption Ending Walkthrough | Red Dead Redemption 2
In the previous mission Our Best Selves, Dutch plans a train robbery for a final time before the gang can disappear forever. In this ending mission Red Dead Redemption 2, Arthur will have to choose a path that will lead to different endings. In this walkthrough, you will see one of them, and the game does not end after this, you will continue playing a new story with a new beginning.
Red Dead Redemption Walkthrough
To earn Gold Medal for this mission get 7 headshots while covering Sadie towards light-house, reach her within 1 minute after she gets captured, finish the mission with 70% accuracy and avoid taking any health items.
Tilly & Jack | Red Dead Redemption
The Ending mission continues after the train robbery scene, Dutch and other gang members are returning back to the camp. On their way Tilly will come with news that Mr.Milton has abducted Abigail, she is somehow able to save Jack. Micah will influence Dutch's decision by telling she is just a girl and they all ride off leaving Arthur and Sadie behind. Arthur will give his share of money to Tilly and tell them to go to wait at Copperhead Landing for Abigail and Sadie. Arthur bids his final goodbye to Jack.
Cover Mrs. Adler | Red Dead Redemption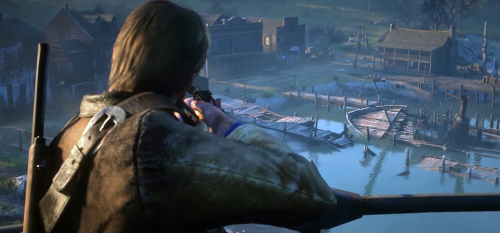 Follow Sadie towards the lighthouse, she will insist Arthur to use the sniper to kill the enemies from a distant. Because Arthur does not seem fit enough, Sadie will start progressing towards Abigail. Go on top of the lighthouse and use the scope and kill all the enemies in her path, don't move your focus away from her. Arthur will spot Pinkertons dragging Abigail into a trading post. Cover Sadie, you will spot the enemies on her way. Continue shooting unless she reaches the trading post. For Gold don't forget to get 7 headshots. Arthur will see Sadie gets captured too, now you have to move on foot.
Go To The Pier | Red Dead Redemption
Continue fighting and making your way towards the trading post room. A lot of Pinkertons will block your way, without clearing them you cannot progress. There are ample houses, carts, etc around you can use to cover yourself and spot the enemies location. Don't hurry to enter the room, ensure that you killed everyone. Instantly after opening the door, Dead Eye will be activated automatically and you have to shoot two Pinkertons.
Fight Milton | Red Dead Redemption
Milton will arrive and point a gun on Arthur. He will tell Arthur that it was Micah who cheated the gang. Arthur will try to grab the gun, but he is not strong enough to save him Abigail will shoot Milton. Follow Sadie and Abigail, to get to your horses. With that keep shooting the enemies who will try to stop you.
Cover Sadie | Red Dead Redemption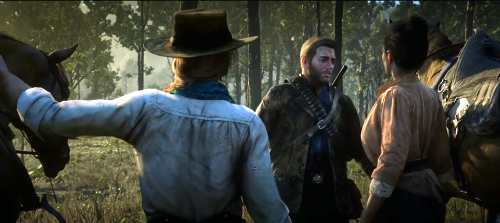 You will be riding with Sadie, after killing a few men on horses in the front keep shooting the pursuers. Look the mini-map for the threats, it will help you to point in the right direction and shoot the enemies. They will stop chasing after a while, there will be a cutscene where Arthur will inform Abigail about John, he will tell her to leave with Sadie and he returns to the camp.
Return To The Camp | Red Dead Redemption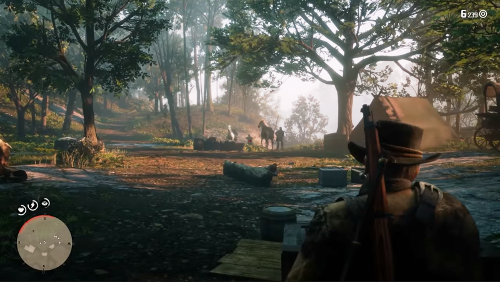 Ride back to the camp, in the cutscene Arthur tells Dutch about Micah's betrayal. In the chaos Pinkertons will attack the camp and Micah will shoot Mrs. Grimshaw. John emerges alive from the woods and blames Dutch of leaving behind. The gunfight will break in, you have to face the Pinkertons. The fight will continue for a while until John will tell you to follow him in the cave.
Follow John Through The Caves | Red Dead Redemption
Follow John, once you climb up you will be attacked by your own gang. Once you are out, there will be a cutscene where Arthur will give John his family's location. Dutch and other gang members are all set to kill John and Arthur, continue following John on the horse. John will change his route after a wagon blocks his path, continue following him and kill a few Pinkertons.
Arthur will fall down after his horse is dead, you will be surrounded by Pinkertons kill them until you see the next cutscene. At this point, you will have two choices that lead to two different endings.
Ending 1 - Help John Get To The Safety | Red Dead Redemption
If you pick this one to follow John towards the rocks by climbing on the mountain. Kill the pursuers once John stops behind the rock. Continue following John when finally Arthur will say him a final goodbye. Arthur is no more in good health to walk. Once John leaves kill the Pinkertons chasing him, the fight will continue till Micah joins in. After falling down, you will be fist fighting with Micah, continue following the screen prompts on the bottom right of the screen. You will have to block Micah once he pushes you down. In a very bad shape crawl towards the gun and you will see Dutch. Arthur will convince Dutch that Micah is a rat, and he will walk away leaving Arthur to die peacefully. Some of you might get a different ending at this point depending on the honor level, in a different ending Micah shoots Arthur.  
Ending 2 – Return To The Money | Red Dead Redemption
At falling from the horse if you choose to return to money then you will be getting back to the camp. You will have to find a way to Beaver Hollow. You will be on foot, and there will be Pinkertons in your way.  The camp is set on fire, enter the cave to find money. Follow the yellow circle and you will reach a chest below the wagon, it has all the money. Carry the sack outside, while escaping Micah will attack you and prove Dutch that Arthur is one who betrayed everyone. This will also trigger a fight, but this time you will have a knife. Micah will pierce the knife in Arthur's chest and stab him one more time after Dutch lefts him.
Continuing with the story you will also play some mission as John. This unlocks a whole new plot in Red Dead Redemption 2. The game is over with Arthur's death, in none of the endings, it looks he will be able to make out alive.
For more similar guides, tips and updates on the game do read our Red Dead Redemption 2 Wiki guide.