An American Pastoral Scene Walkthrough | Red Dead Redemption 2
In the last mission, The Sheep and the Goats Walkthrough, Dutch and his gang were able to survive through an attack from Leviticus Cornwall. To trigger the next mission An American Pastoral Scene, find Micah. He is outside the camp in Strawberry. He will tell you about a coach that has cash in it, you will rob it with Micah.
An American Pastoral Scene Walkthrough
The requirement to earn Gold Medal in this mission to get a headshot from each guard who is guarding the wagon, along with 10 Dead Eye Kills. You will have to finish this mission in 6 minutes without taking any health items.
Rob The Banking Coach | An American Pastoral Scene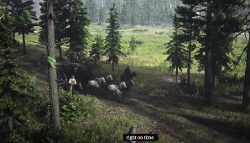 Micah will tell you about a robbing a banking coach. Follow him on the horse till you see a cutscene where Micah will stop on the top of a mountain and you will spot the coach. Micah's plan is to attack the coach before it reaches the town.
Attack The Guards To Stop The Stagecoach | An American Pastoral Scene
Follow Micah and attack the guards first. Don't forget to cover your face before you start shooting the guards. Use Dead Eye to lock on the guards on horses and shoot them down. After killing them the coach driving will steer it fast. To stop the coach you will need to shoot the driver. To earn gold medal here you will need to get a headshot on every guard on a horse. You have to get around 10 Dead Eye kills.
Drive The Stagecoach | An American Pastoral Scene
After killing the guards Micah will tell you to take the coach out of the region. There won't be many issues on the smart, your drive will be smooth until you reach the river. O'Driscolls will attack you to rob the coach. It will crash into the water and you can Micah will have to take a cover behind a rock. Don't change your location, the enemies will be in your range. You can get 10 Dead Eye kills here, keep shooting and clear the region. Your rifle will be good enough to kill everyone.
You can loot the bodies after killing them before Micah gets into the chest and triggers a cutscene. So first check properly all the dead bodies and then meet Micah. There will be a cutscene in which you will see both share the robbed cash. You will have to shoot the lockbox lock to open it. The mission is over once you mouth your horse and ride back to the camp. We will not head to the last mission of Chapter 2 Horseshoe Overlook – A Strange Kindness.
For similar guides, tips and updates on the game do have look on our Red Dead Redemption 2 Wiki guide.