Enter, Pursued By A Memory Walkthrough | Red Dead Redemption 2
In the previous mission Outlaws of the West of Chapter 1 Colter, you learn basic things about the game. This includes mounting and controlling a horse, using weapons and interacting with items. Also, Arthur's gang in search of a homestead found a woman whose husband was murdered. The mission ended as all reached the camp and rested for the day. The next mission Enter, Pursued By A Memory is a secure mission, where you will locate and rescue a lost member of your group from the icy mountains. You can earn a gold medal by killing all the wolves without taking any damage and finish off the mission with atleast 80% accuracy.
Enter, Pursued By A Memory Walkthrough
Abigail will ask you to look for John who has gone missing for a few couples of days. Javier will accompany you in the search mission.
Rescue John Marston
In the cutscene, Javier will investigate an area with a fireplace and get a direction. Just follow him and you will see the horse health. If it completely depleted the animal will collapse. The health is displayed in the form of heart icon inside a black circle. Next, you will see the flashing stamina icon that also belongs to the horse. It is depleted fast if the horse jumps. So you will now need to look at these two icons when you are riding.
You can activate the cinematic camera by holding X/A to follow the road automatically. After following Javier for a while and you will come across a dead horse. Javier will shoot some gunshots in the air and you will hear a voice for help. Follow Javier once again and un-mount the ride. Don't forget to take the shotgun before you follow Javier once again. Right now you can carry only one weapon. Slowly you will reach near the voice and find injured John.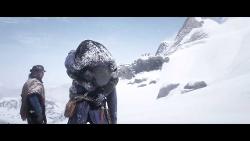 You will see the stamina core on the left of the screen above the mini bar. Similar to Health Core, Stamina Core also falls and you will need to eat and drink to continue working. One of the food that can offer you stamina with some health is Canned Peaches. Finally, you will find John injured and lying at the edge of the mountain wall. To rescue you will have to carry John towards horses. Next, you will have to kill a pack of wolves but lure them away from the horses. Press Square/X to call the animals towards you and then shoot them.
Return to your horse and you start riding back to the camp a few more wolves will attack you. You have to save your friends here, it is not easy to shoot the wolves while riding. The best is to let them come near you and then shoot them from nearby. This will give you a sure kill.
After following Javier all the way to your settlement the mission is over. There are two things you can do here. You can unlock the hunting part by talking to Mr. Pearson and play The Aftermath of Genesis. We will take this as your next main mission. He is inside a hut on your left standing near coal fire.
For similar guides, tips and updates on the game do have look on our Red Dead Redemption 2 Wiki guide.