Friends in Very Low Places Walkthrough | Red Dead Redemption 2
In the last mission Blessed are the Peacemakers Arthur was fortunate enough to pull himself out of the O'Driscolls trap. He was able to make out to the camp. The next main mission you can play is Friends in Very Low Places, for this talk to Trelawney. He is standing near a tree in the camp region.
Friends in Very Low Places Walkthrough
There are only two requirements for a Gold medal in this short mission, first you will need to finish the objective without getting spotted and second you have to finish everything less than 8 minutes and 10 seconds.
Go To Rhodes | Friends in Very Low Places
After talking to Trelawney follow the yellow line that will lead you to Rhodes. Hitch your horse and then follow Trelawney. He will take you inside the post office where he will introduce you to Alden. He is calling Trelawney as Josiah, and they will start talking. Go near them Alden and pay some money to get info on Stagecoach which Trelawney wants to rob.
Coach Robbery Tip | Friends in Very Low Places
Check the paper Alden gives you, it is a coach robbery tip. Follow Trelawney, he will stop once he reaches the location and will update you about the coach. You will need to wait for a while, Trelawney will ask you to main distance. You will need to do this in a way so that no one notices you.
Trail The Stagecoach | Friends in Very Low Places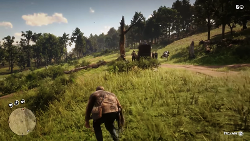 Trelawney will convince the woman in the coach to stop it and he will start his sweet talks. Un-mount your horse and quality walk behind the coach. Stay hidden until you get a clear way to reach the strongbox behind the coach. You can avoid all kinds of a fight as Trelawney will try to create a distraction.
There is another approach, you can kill the men and loot the box, and instead, the requirement for Gold is to play quietly. Miss Damsen who is in the coach will leave it after Trelawney convinces him. You have to just wait for your chance to reach the strong box. It is best to stay on your horse till you see Ms. Damsen walking away.
Return to Mr. Trelawney who is waiting for you at the crossroads. Arthur will get his cut for the robbery and the mission is over. You can read our walkthrough on the next main mission A Short Walk in a Pretty Town. To start this mission find Bill in Rhodes.
For similar guides, tips and updates on the game do have look on our Red Dead Redemption 2 Wiki guide.