The Last Boy Walkthrough | Red Dead Redemption 2
Arthur and Charles took a drastic step to rescue Eagle Files alive from US Army's prison in the previous chapter The King's Son. Back at home Eagle Flies is not happy enough and wants to fight with the new government for his land and people. To start the next mission walk towards Dutch, in a cutscene you will see Eagle Flies is ready for a battle, but Rains Fall his father tries to convince him this is not the right path and there will be only death. Denying his wish Eagle Flies lefts and chooses what he wants to do. Rains Fall begs Arthur to help.
The Last Boy Walkthrough
The Gold Medal requirements have four things to achieve, save Paytah, get at least 30 headshots, complete the mission with minimum 80% accuracy and avoid taking any health items.
Ride To Oil Field | The Last Boy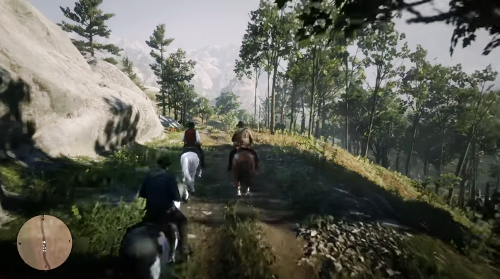 Arthur calls Charles to ride with him, eventually, Dutch and other members also join the fight. Ride to the oil fields. On your way, you will learn its Dutch's idea behind the attack on Oil Fields. On your way, an injured Indian will point you to the Oil Fields. From distance, the gang will spot a burned oil field and Dutch will insist to help them. Arthur will spot Eagle Flies and rush to help him. This triggers a long battle between Dutch's gang and Army.
Save Eagle Flies | The Last Boy
Shoot a few guards on your way, continue riding till you are near enough. Take cover behind the boulder on the left of the water tank and kill the men in the tower right in front of you. There will be tons of soldiers, the good thing is your gang member will point you the location if you are unable to locate them easily. Move forward only when you spot your gang people moving.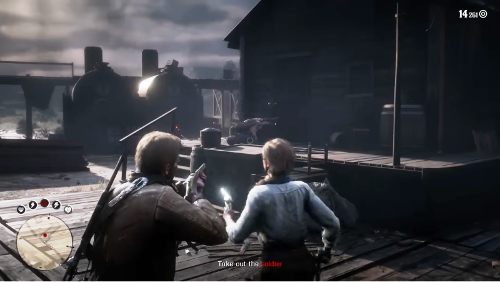 You can hide behind the barrels after crossing the track and kill a few more on your right. If you are unable to spot then follow Mrs. Adler. She will run towards the bridge, Eagle Flies will be on the right pinned by a soldier shoot to save him.
Save Eagle Flies Men | The Last Boy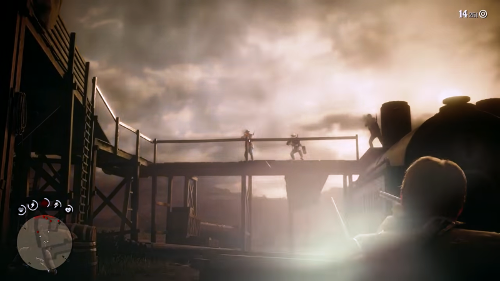 Eagle Flies wants to save his men, Charles will point towards the factory. The same where Dutch has gone, kill the men on the bridge using Dead Eye and follow Eagle Flies. Keep killing the soldiers coming in your way, you will see red-spot in the minimap. They will keep coming in your way until you reach the factory. Help your gang members if you find them struggling with the soldiers. Don't forget to take cover if you see a group of men in your way. The best time is to move is waiting for your gang members to take lead.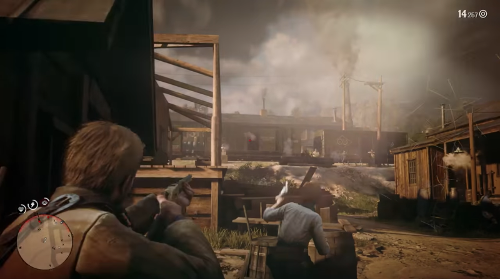 From the Train, a few soldiers will jump in along and there is one who is controlling a gun machine. Use Dead Eye to kill him fast and then fight the remaining ones.  More soldiers are waiting for you after the train track, keep looking around for your gang members also.
Kill Soldiers From The Hill Side | The Last Boy
More soldiers will join the fight coming from the hillside on your right. Walk towards the entrance and clear the region. You cannot progress into the factory without it. After killing everyone you will spot Dutch taking cover near a huge tank behind the barrels, talk to him. Dutch came here with an intention, he used the Indians to attack the oil factory for this benefit.
Loot The Office | The Last Boy
Follow Dutch inside the factory, he will take you to the upper floor in an office. Dutch will find bonds, this is the exact reason why the Dutch attacked the Oil Factory. While leaving Colonel Favours and his soldiers men will block your way. Use Dead Eye to kill a few bunch of soldiers and follow Dutch. A blast of steam will knock out Arthur, and a soldier will try to kill him with a knife. Arthur will see Dutch was there but left him to die, Eagle Flies jumps in and save Arthur from soldiers, but he will be shot by Colonel Favours, you will have a fraction of second to kill Colonel using Dead Eye.
Eagle Flies is in bad shape, Arthur carries him outside and accuses Dutch of leaving him behind. Dutch will deny the allegation, right now the gang plans to flee the Oil Fields, take him to his father. Eagle Flies will see his father for the last time, he won't be able to make out alive from this fight.
Arthur won't be able to make back to the camp, he will fall due to his deteriorating health. Fortunately, a family will help him as he passes out. They are same people Arthur helped in Chapter 2: Horseshoe Overlook's last mission A Strange Kindness.
They will try to help Arthur but he is stubborn enough to leave and find himself near train tracks in Annesburg. The mission is complete, the next walkthrough is on main mission Our Best Selves. Once again talk to Dutch to continue the main story.
For more similar guides, tips and updates on the game do read our Red Dead Redemption 2 Wiki guide.