Fortnite OG Map Revealed: All Returning POIs & Landmarks
The full map of Fortnite's OG event has been revealed, showing off every returning POI and Landmark making a comeback.
The Fortnite OG is a huge event, welcoming the return of many classic weapons for players to use and several remixed versions of vintage skins. On top of them is a reworked OG Map, which will bring back several notable locations from Fortnite's Chapter 1.
Fortnite OG's map will have several iconic POIs and landmarks that have since been removed, destroyed, or replaced with updated ones since Fortnite's Chapter 1. The map won't remain reverted like this for long, being updated each week with new elements from subsequent Chapter 1 seasons. In this guide, we've broken down what players need to know about all returning POIs and landmarks coming to Fortnite's OG Map.
Related: All New & Removed Weapons and Vehicles in Fortnite OG Week 2
All Returning POIs and Landmarks to Fortnite OG – Full Map
Fortnite OG's map is exactly as it appeared in Fortnite Chapter 1. Long-time fans will know exactly what to expect, but newcomers may not have the knowledge or nostalgia to help them get to grips with where to land on day one.
However, the Fortnite OG season was shared ahead of time, and everyone could see everything well before the official release, which happened November 3, 2023. We've also checked out many returning items, weapons, and battle pass cosmetics.
Now that Fortnite OG is out, we know the map is exactly as prominent leakers showed leading up to the season's launch. All of the notable POIs and Landmarks that are in or coming to Fortnite's OG Map are listed below.
Dusty Divot
Fatal Fields
Flush Factory
Frosty Flights
Greasy Grove
Haunted Hills

Junk Junction
Lazy Links
Lonely Lodge
Loot Lake
Lucky Landing
Paradise Palms
Pleasant Park
Retail Row
Risky Reels
Salty Springs
Shifty Shafts
Snobby Shores

Tilted Towers
Tomato Temple
Wailing Woods
These are every POI and notable landmark location we know of for Fortnite OG as of week 4. There's always a chance that Epic Games will surprise us and add in something unexpected, but given what we know of the game's Chapter 1 seasons, these will be the locations for players to care about.
Full Map of Fortnite OG Season
Ahead of the official release of Fortnite's OG Season, several devices received the upcoming map a day early. Those who received the update have shared what the map looks like, and we've included that below. Now that the season is out, we know this is the final map, and that it won't change much because Chapter 1's map was iterated on over the seasons that concluded it, rather than completely altering it.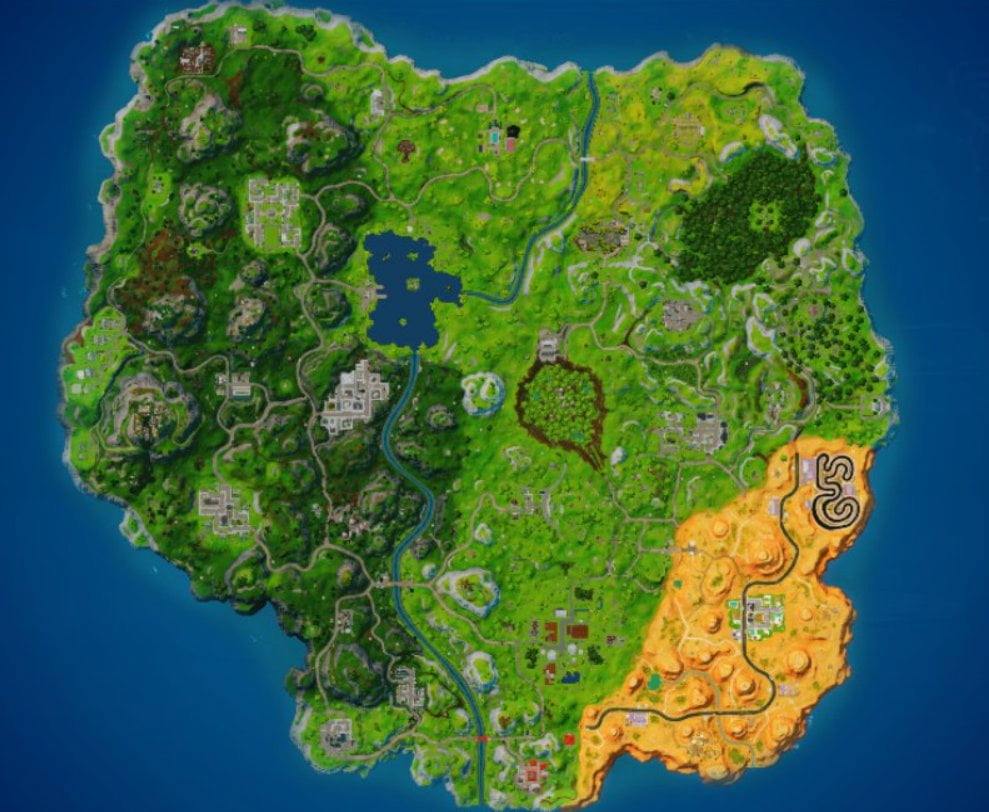 It's possible to see how early this version of the map is. At the time of writing, we've just entered week 4, and there's no real difference in the map between week 3 and this week. In fact, the map is exactly the same, so the image from week 3 below is still relevant for players throughout week 4.
The only major difference is that a rocket has appeared in Dusty Divot and appears to be being slowly built, with a timer indicating it'll launch at the end of the season. This will lead up to the end of the season and The Big Bang Event, which will see artist Eminem enter Fortnite for the first time ever.
All Fortnite OG Season Map Changes: Week 1 – 4 POIs & Landmarks
Throughout the course of Fortnite's OG Season, the map will be changing each week, much like the weapons rotating out. These reflect the several changes that Epic Games added throughout Fortnite Chapter 1.
There will be four weeks of changes throughout the Fortnite OG Season.
Week 1: Normal Map
Week 2: Loot Lake Cube Island Appears
Week 3: Snow Added to Southwest
Week 4: Meteor Appears Heading for Dusty Divot
These locations are meant to represent the changes to the various seasons that occurred in Fortnite Chapter 1 when they initially launched for the Fortnite OG Season. When Loot Lake appeared during Fortnite Chapter 1, Season 6, darkness was arriving at the lake, driving everyone mad. There will be a significant change to the map when it occurs, along with a handful of new weapons for players to grab.
The same goes for when things start to become cold on the southwest part of the map, adding the snow biome and Frosty Flights. This did introduce air travel during Fortnite Chapter 1, Seasons 7 and 8, giving players a new way to earn a victory royale. All of these changes will happen throughout the Fortnite OG Season in a short amount of time.