Dead by Daylight November Developer Update – Player Cards, Trickster Changes & Garden of Joy Rework
Behaviour Interactive still has a lot planned for Dead by Daylight in its November Developer Update, including new cosmetics.
Behaviour Interactive has shared its Dead by Daylight November Developer Update post, and it's packed with juicy changes, Killer and map balances, along with free cosmetics for players to pick up over the coming months.
The Dead by Daylight November Developer Update contains information on all the changes Behaviour Interactive is planning to make to the game over the next couple of months. These changes address balance issues with Killers, and also provides new cosmetics that players have been asking for. The best part about this update is that we get to see what the developer has planned for two maps that will be reworked in the next couple of months.
Dead by Daylight November Developer Update Guide
Related: Dead by Daylight: All Hatches Location
Dead by Daylight November Developer Update Explained
Below we've outlined everything that Behaviour Interactive said is going to change in Dead by Daylight over the next month or so as part of the November Developer Update. We've been through the official blog post and have explained everything in terms all players can understand.
It's well worth scrolling through and reading about every change because they all impact Trials, Survivors, maps, and Killers. There are also some new cosmetics for players to start earning soon that look amazing.
Player Cards
A new customization option is coming to Dead by Daylight in the form of Player Cards. These are decorative banners that appear in the top right-hand corner of a player's screen in various menus. Other players will see it when it pops up in the post-match scoreboard, as seen in the image above. We're hoping for Player Cards that unlock at Prestige 100 or for similar feats so we can show them off to newbies.
This update will also come with a revamped look for the player profile screens. It will help showcase the Player Card, some of which will be animated, and the player badge. At first, only a small selection of these items will be available, but, as with every cosmetic in Dead by Daylight, more will come over time.
The Trickster
The Trickster is going to be getting an update to balance him for both the Killer and Survivor side. Some feel he doesn't hit the right notes in terms of ranged Killers. For Survivors, it feels impossible to dodge that ranged attack. The upcoming changes are as follows.
Rapid Fire
The Trickster's rate of fire will be increased to four knives per second from three to make him feel like the perfect rapid fire Killer. To balance this for Survivors, the laceration meter now requires eight hits instead of just six to fill and has decreased the time before it decays from 15 seconds to 10. The result should feel the same but make dodging hits as a Survivor more impactful.
Fast Paced
To meet that faster rate of fire, The Trickster's speed has been pushed up to 4.6 meters per second from 4.4. Since this technically moves the Killer into the Fast category, his Terror Radius has been reduced from 32 meters to 24 meters.
Main Event
Main Event is an ability or state for The Trickster in Dead by Daylight that allows him to move faster after landing a set number of hits. However, because those hits are hard to land, this felt like a rare treat. Almost impossible for anyone but Trickster mains.
To make the ability viable, the blades required to charge it have been reduced from 30 to six, and the duration of Main Event has been lowered from 10 seconds to five.
Add-Ons
The last major tweaks to The Trickster are for a set of his Add-Ons. We've listed the Add-Ons and how they've been changed below.
Memento Blades: This now decreases the time between blades thrown by 5%.
Inferno Wires: Increases the duration of Main Event by 40% instead of 25%.
Ji-Woon's Autograph: Decreases the number of blades it takes to charge Main Event by one.
Tequila Moonrock: Increases the duration of the Main Event ability by 60% instead of 50%.
Fizz-Spin Soda: Decreases the number of blades required to start the Main Event ability by two.
Waiting For You Watch: Increases Main Event's duration by 0.25 seconds instead of 0.4 seconds for every blade hit while it's active.
Iridescent Photocard: Gain stackable 1% Haste effect for every blade hit up to a maximum of 7%. The bonus is lost when putting a Survivor into the Dying State or missing a blade.
Made For This
The Made For This Perk seemed unavoidable because of its easy trigger. To make it fairer, there are now additional requirements on the single blade hit required to activate it currently. After healing another Survivor, the Endurance Status Effect gained remains unchanged. However, Survivors gain a 3% boost to running when inflicted with Deep Wound or Exhaustion now.
This ties in with The Trickster because he can now control the potential downside of his hits from the right Survivor builds. If he's not inflicting Deep Wound or Exhausted, he'll likely be able to keep on throwing without any trouble.
Garden of Joy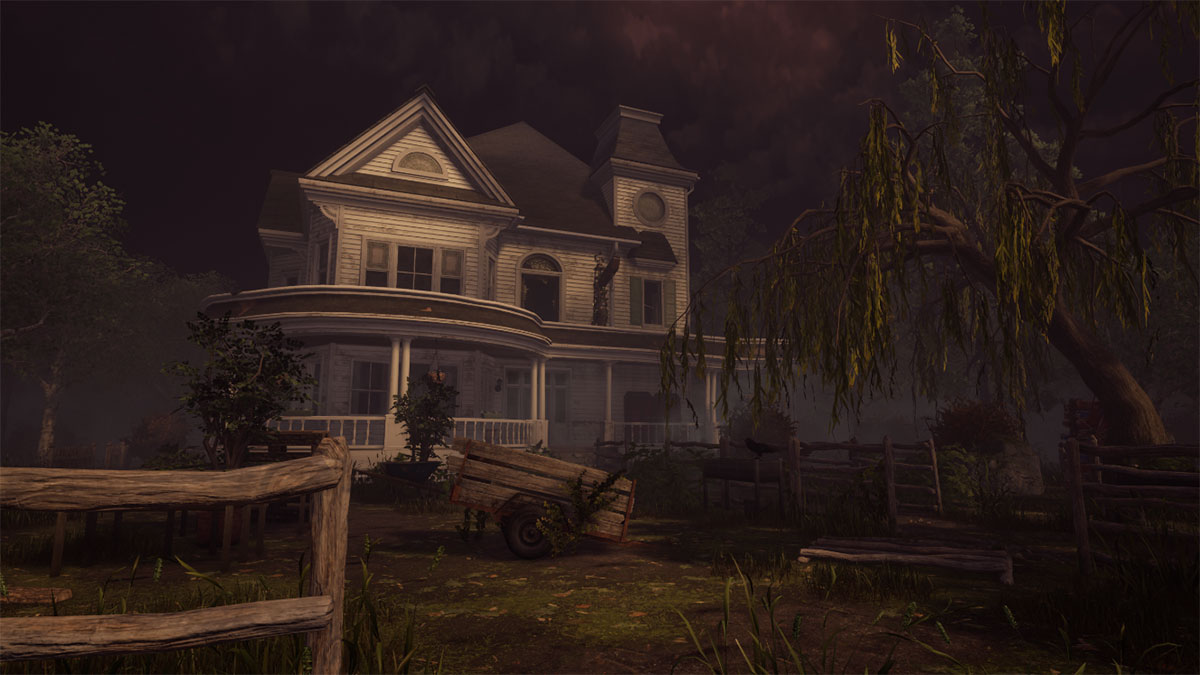 Last month, Behaviour Interactive revealed Garden of Joy would be the next map getting a rework, and fans exploded with excitement. The developer has now revealed how the map will be altered, starting with the big windows in the house. The layouts of the vaults and breakable walls have been reviewed to make it harder for Survivors to drag out chases.
The second big change is for the pallet loops. We've used these numerous times to escape a Killer. The loops have been tweaked to fit the sweet spot where they're useful for Survivors but also avoidable for Killers, so no one has the advantage any longer.
The final change is boring visibility updates. These are necessary for maps where visibility is currently poor due to trees and obstacles everywhere that make it difficult for players to see objectives or targets. The changes to The Shattered Square in Dead by Daylight's September/October Developer Update worked wonders, so we're excited to see Garden of Joy's.
Red Forest
This month, Dead by Daylight is getting two map reworks. The second is for Red Forest, which affects Temple of Purgation and Mother's Dwelling. The most feedback Behaviour Interactive received for these maps is about their size and how they're too big.
Both maps will shrink somewhat, similar to how the RCPD was shrunk but split into two maps instead. The maps will remain separate but will be roughly the same size as every other map in the game, making it easier for everyone to traverse.
These maps have also had a new set of eyes run over their pallet and vegetation placement. The loops were hard to distinguish at first, so everything's been stripped back to make it far more visible and easy to understand.
All of these updates will hit the Dead by Daylight PTB on November 8, 2023. After a couple of weeks of testing with players there, the changes will be brought into the main game across all platforms. We're extremely excited about those Player Cards and can't wait to see if The Trickster becomes more viable toward the end of the year.